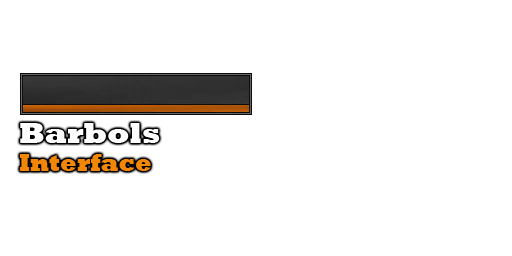 This is a universal friendly UI that can be used for any class or role
Barbol's UI is meant to give a cool class look to your UI
This works for multiple resolutions(widescreen) ranging from 1280 x 800 to 1920 x 1080
If for some reason the scaling does not work, adjust the uiscale, or please let me know.
Special thanks to LUI for his help on some things. Also the people that have made the addons!
put changes in change log, take a look
small configuration file for panels now added.
Interface now features oUF and oUF_Barbol.
Frames Configured:
Focus
Party
Pet
Player
Target
ToTarget
Boss
Raid(25 and 40man)
arena(these ARE NOT tested by me)
Installation
1) Put interface folder into WoW folder
2) Login, make sure out of date addons is checked
3) Enjoy!
CONGRATULATIONS! Your setup and ready to go.
addons supported for skinning: DBM, Recount, Omen, Decursive
In-Game slash commands:
/defaultui
/barbolui ----- gives a list of commands in the chat frame... currently only unlock and lock
/rolecheck, /role
If you have any issues or problems please let me know via private message, or on the comment page for this UI. Thanks.
Also if you have any ideas, please let me know, i will gladly take them into consideration.
I thank you for using my interface
Addons:
!BugGrabber
Aurora
BarbolUI
BugSack
Deadly Boss Mods
Decursive
Omen
oUF
oUF_Barbol
oUF_Experience
oUF_Reputation
oUF_Totembar
pError
Recount
TipTacTalents