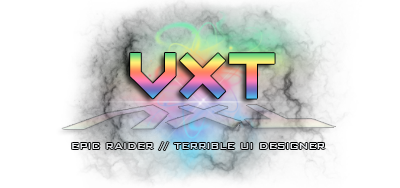 Please Read ChangeLog for a list of updates. Thank you!
About the UI
In terms of functionality, this UI is made for PVE Raiding. I have been using this UI, and have ran into zero issues using it in a progression-oriented, 25-man Heroic raiding guild. I have laid information out so important info is consolidated and easy to find, while keeping certain elements built around it to make great use of the screen space. While it is set up for 25-man raiding, using this for 10-man raiding is fully possible, and with some tweaks, this could also serve as the base for a PVP-oriented UI.

The resolution of this UI is 1920x1080. I will not format it to fit any other resolution. If you use a different resolution, you will have to configure it yourself.

Installation


1. Unzip VxtUI Gen 2.rar to your desktop.
2. Back-up your current Interface and WTF folders and remove them from your World of Warcraft folder.
3. Copy the Fonts, Interface, and WTF folders from VxtUI Gen 2 into your World of Warcraft folder.
4. Rename the ACCOUNTNAME, Server, and Character folders inside the newly copied WTF folder to your appropriate information.
5. Launch World of Warcraft and set display settings to Windowed(Fullscreen) and make sure it is at 1920x1080.
6. Make sure you have "Load Out-of-Date AddOns" checked and log into your character.
7. Load VxtUI via the nibProfileLoader prompt box. The UI will reload automatically.
8. Select the "Vxt" profile in the Gnosis GUI screen.
9. Type /rl to reload the UI opne last time.
??. Enjoy!


AddOns Used

DO NOT UPDATE ADDONS LABELED WITH A WARNING BY YOURSELF! I WILL NOT HELP YOU FIX THEM!

!Classcolors [DO NOT UPDATE]
AfkCam
Aurora
Bartender4
Bagnon
Chatter [UPDATE AT OWN RISK]
ColorPickerPlus
CompactRunes
DragEmAll
eAlign
EasyDestroy
ExtraCD
Ferous Media
FreebTip [DO NOT UPDATE]
Gladius
Gnosis
Grid2
HideRaidFrame
intminimap [UPDATE AT OWN RISK]
kgPanels
Kui_Nameplates
Masque
Masque_CleanIcons
Masque_SimpleSquare
nibChatTabs [DO NOT UPDATE]
nibProfileLoader [DO NOT UPDATE]
Postal
Raven (Buffs and Debuffs)
Reflux
SharedMedia [UPDATE AT OWN RISK]
SimplePowerBar
SimpleReloadUI
Skada [DO NOT UPDATE]
stExperienceBar [DO NOT UPDATE]
Stuf Unit Frames
Tipsy
XLoot

Thanks and Credits

All my thanks goes out to the AddOn developers who create and share these wonderful addons with us. The Ui designing community is large and I want to thank all the fellow Ui designers who have the same love for creation that I do, even some who go above and beyond what I am capable of to create amazing UI's. Without the UI community's constant support of each other and the sharing of ideas, we would never have many of the great UI's players all over the world use.