- -
actionbar locked
(
http://www.wowinterface.com/forums/showthread.php?t=42705
)
---
actionbar locked

Hello, i'm new to RDX and it seems really cool, but for some reason I can't move or remove abilities on my action bars. Am I missing something?
I checked the Blizz UI options and they are not locked there, is there another option in RDX that locks your abilities?
edit: Also, I noticed that there is a slight inset for all the actionbar icons, removing the border on the icon itself. I use
Clean Icons
to maintain a consistent look but the thin border is now gone. Is this a part of the base RDX or the button skin? Is there anyway to disable/remove the offset?
---
Hi Gethe

Use the shift key to move out the icon.
(In the next version, shift is nomore necessary)

About the offset, is it possible to post two screenshots ?

Thanks you
Cheers
Sigg
---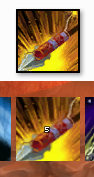 On top is the icon as seen in windows, this is what it should look like. Bottom is in-game using the caith skin with the textures blanked out and icon size at 64 and skin size offset at 0. The border is gone, in addition to some of the icon itself (look at the fuse and arrow tip)
| | |
| --- | --- |
| unlimit | 02-27-12 03:02 AM |
---
I can confirm this, I've noticed this problem for a LONG time now, just never really thought a lot about it.
---
Fix is available in github with the version 8.3.0 alpha
---
From the classic menu, you must activate the Cleans Icons option
All times are GMT -6. The time now is

03:32 AM

.
vBulletin © 2018, Jelsoft Enterprises Ltd
© 2004 - 2017 MMOUI