- -
Wildheart UI
(
http://www.wowinterface.com/forums/showthread.php?t=43677
)
| | |
| --- | --- |
| Elloria | 07-08-12 11:22 PM |
---
Wildheart UI

Hey guys! I am re-doing Wildheart UI and have done a few changes. Early stages still but lookin good. Tell me what your thoughts or suggestions are. Would love to hear em!
One thing I know I am not happy with its the texture im using for the unit frames. What do you guys think would look good?
| | |
| --- | --- |
| Fizzlemizz | 07-08-12 11:42 PM |
---
Your artwork at the top and bottom is very organic whereas the solid square frame within the portrait borders seems to grate with that organic theme.

Maybe something entwined in a circular style border or even just getting rid of the solid square parts of the border.

It is a nice look I have to admit.

Just noticed the entwined branch bits in the very top art above the flair outs either side of the face. Something like that might be used to replace the solid parts of the square borders
---
If you are a girl you may like it. Pretty bloomy.

I sign Fizzle. Make the trees rank of the the edges of the unitframes and maybe even use statusbars with round edges.

Minimap could be a sign hanging down from the top branch.
| | |
| --- | --- |
| Elloria | 07-09-12 12:44 PM |
---
These are all very good ideas! I will see what I can come up with and get back to you guys. Thank you for the input. I think the minimap is awesome! The problem with circular portraits is I can't get circular 3d portraits and I can never make that look the way I want to (see crystal ui and youll see why)
---
If you have a thick enough border, your square portraits will look like circles when placed/sized correctly. ;) This is how ADAPT does it.
| | |
| --- | --- |
| CClassiquee | 07-09-12 01:20 PM |
---
I like it :) I would never use it because I like minimalistic, but it's definitly a GREAT designed UI. :)
| | |
| --- | --- |
| Elloria | 07-10-12 08:18 PM |
---
Here are a few changes. I am still trying to figure out how I would make a round portrait. I did come up with a bit more foliage on the portrait for party members. It makes it look a little bit better I think. I also found a better screen shot from the game that this interface is from and decided to add the rep bar/xp bar right above the buttons. Also added a small action bar frame for trinkets or what ever floats your boat up there. Minimap idea is still being worked on. will give more screen shots later. For now its time to have fun and do a few heroics :D
| | |
| --- | --- |
| Elloria | 07-22-12 06:59 PM |
---
Here are some changes.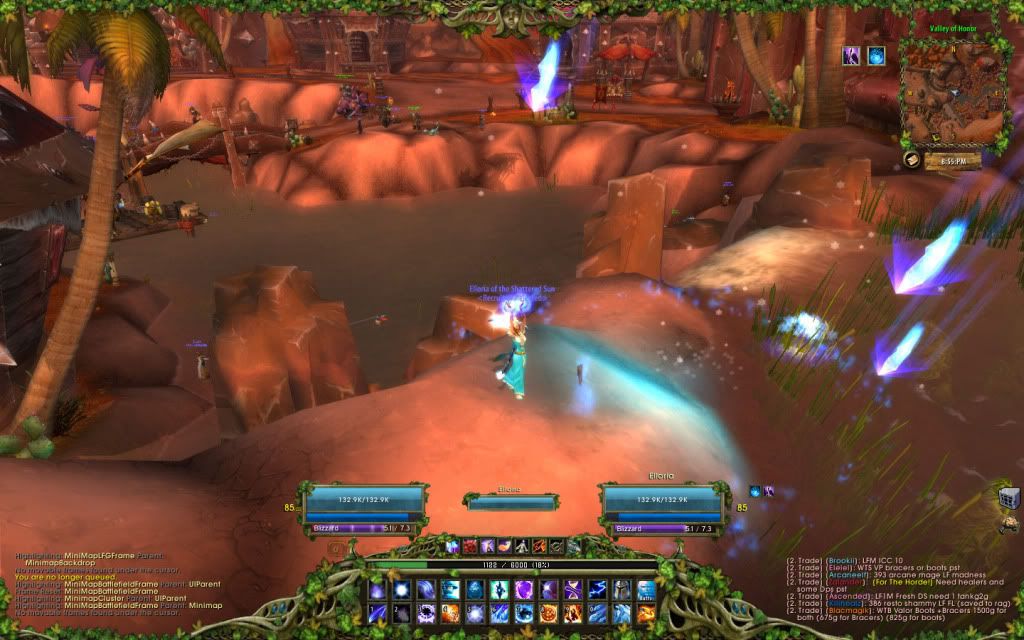 Is there anyway I can make my screenshots look clearer? more crisp? I feel like they are fuzzy. Or maybe thats photoshop resizing them?
All times are GMT -6. The time now is

08:30 AM

.
vBulletin © 2018, Jelsoft Enterprises Ltd
© 2004 - 2017 MMOUI