WhisperWhisper Lite: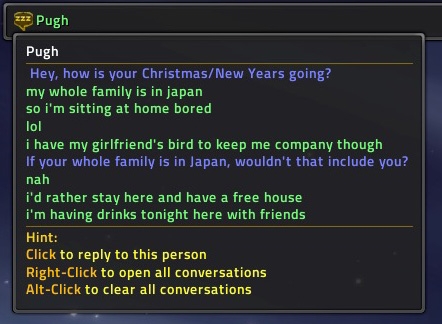 WhisperWhisper Lite is a rewrite of the original WhisperWhisper, turning it into more of a DataBroker plugin. This addon will keep track of private conversations (through whispers and Battle.net) so that you don't miss a thing. It stores up to 30 messages each in up to 30 conversations. Wondering if that new guild recruit answered your question yet? Just glance at your DataBroker display to see if their name is green (meaning they sent you a message last). Tired of scrolling through chat to re-read an exchange? Just look it up in the addon.

You can check it out here.



For previous Picks of the Week, visit our PotW archive forum.

Are you the author of a mod that you think belongs in this spotlight? Just upload/update it to WoWInterface, and it will automatically be considered for that week's Pick.