Battle Pet Binds:





If you have modified your action bars and/or keybinds, then you may have noticed that the keybinds in the pet battle interface are linked. This addon allows you to modify the pet battle keybinds independently of your action bars. This is helpful if you have switched your main bar to be a different action bar, or wish to modify the keybinds for pet battles without it affecting your action bars. In addition, the addon adds keybinds for forfeiting a battle, passing your turn, and switching out a pet. If you wish to play with solely your keyboard - or mouse, you may do so with this addon. (I like to eat or drink while doing pet battles, so this is pretty handy - no pun intended.

)

You can get this addon here.



Hidden Artifact Tracker: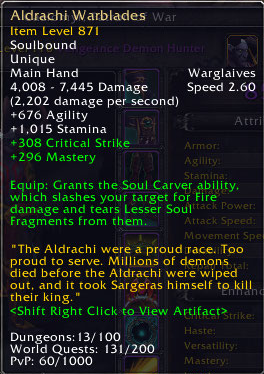 Every artifact weapon has a hidden appearance. Have you unlocked yours yet? This addon adds a tracker to the bottom of your artifact's tooltip to keep you notified of your progress toward unlocking the hidden appearance and the additional colors for it.

You can check this addon out by visiting its download page.



For previous Picks of the Week, visit our PotW archive forum.

Are you the author of a mod that you think belongs in this spotlight? Just upload/update it to WoWInterface, and it will automatically be considered for that week's Pick.