Paragon: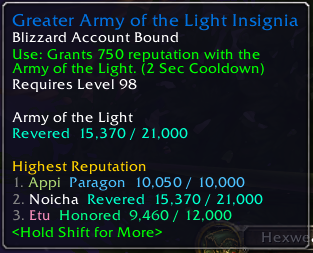 Are you grinding out your rep with the Army of the Light to unlock the Lightforged Dranei race, or any of the other new races? Perhaps your main character has already reached exalted with a faction, and you are wondering which alt to send a token to. This addon lists your current reputation status in the tooltip of any items that can be used to gain rep with a faction. It can also show you how far along your other characters are with that faction, either in chat or an item's tooltip. As this is a new addon, additional features are already planned for later releases.

You can check it out here.



For previous Picks of the Week, visit our PotW archive forum.

Are you the author of a mod that you think belongs in this spotlight? Just upload/update it to WoWInterface, and it will automatically be considered for that week's Pick.