This Scampi Happening: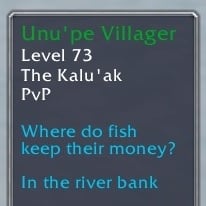 Spend a lot of time fishing and finding yourself needing some entertainment? This addon adds a little text to the tooltips of fishing items and NPCs to give you a giggle every now and then. Reely, who cod ask for more?

Get the addon here while the oppor-tuna-ty is there.



For previous Picks of the Week, visit our PotW archive forum.

Are you the author of a mod that you think belongs in this spotlight? Just upload/update it to WoWInterface, and it will automatically be considered for that week's Pick.