WoWInterface
(
https://www.wowinterface.com/forums/index.php
)
| | |
| --- | --- |
| Kreelor | 11-07-13 02:58 AM |
---
Daily quest reset time & daily count?

1 Attachment(s)
I have these two options checked, but I don't know where to find the info on the user interface.
Where is the info displayed, please?
| | |
| --- | --- |
| Kreelor | 11-10-13 07:53 AM |
---
Well, I guess it's broken too or else nobody knows the answer to such a simple question?
| | |
| --- | --- |
| JimJoBlue | 11-10-13 08:48 AM |
---
I've been very busy and not been able to get online, but I would assume it would show the timers on the quest window somewhere.... (L)

I remember there is a timer on the "weekly" module at the top of the window.. I'll try and get on game tonight (UK time) and see if I can find the timers you are looking for..
| | |
| --- | --- |
| Kreelor | 11-10-13 10:10 AM |
---
That will be very kind of you, indeed! You're always nice. Thanks for replying.
| | |
| --- | --- |
| JimJoBlue | 11-10-13 10:30 AM |
---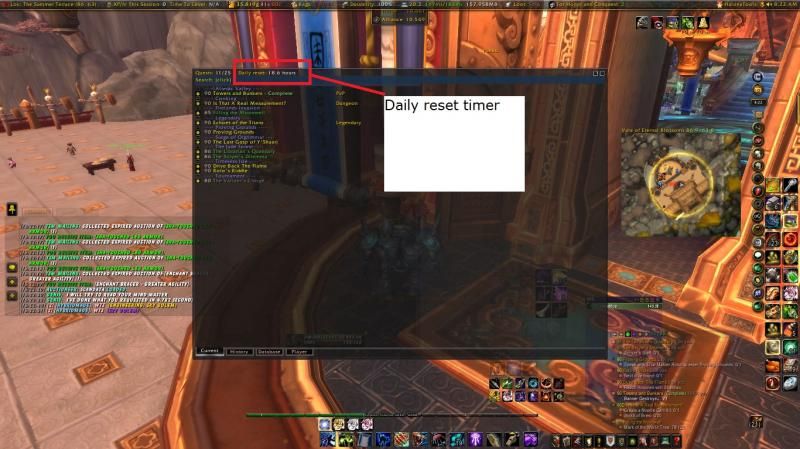 I've not done a daily to find where the daily count is.. but as a guess I'd say the same area....
*edit
Yup I was right...
| | |
| --- | --- |
| Kreelor | 11-10-13 02:52 PM |
---
Thanks for taking some time to do this. I can't read the text on them, so I'll find the screen you opened up. I don't use Carbonite for questing; I use Zygor instead.

It's no wonder I couldn't locate anything about the Dailies reset times, etc. I was fully expecting some sort of re-positional text overlay in a corner of the map, or whatever. Maybe even a slender little (optional) pop-up which could be repositioned. With either of those two ways, I wouldn't have to leave the game to open a giant screen to see that little tiny line of text. LOL. It would be easily visible while I'm playing. Oh, well. At least I know it has something related to my question. Thanks again, JimJoBlue! You helped, and that's wonderful!
All times are GMT -6. The time now is

04:14 AM

.
vBulletin © 2018, Jelsoft Enterprises Ltd
© 2004 - 2017 MMOUI